Galleries
Click on image to enlarge.
Garmin Dash Cam™ 66W
Descriptions
ONE MIGHTY LITTLE CAMERA
Featuring an extra-wide 180-degree field of view that captures and saves important details in 1440p HD video, the compact GPS-enabled Garmin Dash Cam™ 66W has you covered.
Record 1440p HD video with an extra-wide 180-degree field of view.
Because details matter, built-in GPS pinpoints when and where events occur.
It's never been easier to view and share video. Just use the Garmin Drive™ app on your compatible smartphone.
Voice control1 makes everything easier. Need something? Just ask.
A little added awareness never hurts. Driver alerts look out for you.
No more having to choose. Dual USB means you can plug in your phone and your dash cam.
COMPACT AND DISCREET
This pocket-size dash camera is remarkably compact, making it perfect for capturing video without getting in your way. Two power cable options are included for upward or downward routing.
EXTRA-WIDE LENS FOR EXTRA COVERAGE
The impressive extra-wide 180-degree field of view captures more of the environment. Get an eyewitness account of the road ahead, including cross traffic.
CRISP HD VIDEO
With 1440p HD video and Garmin Clarity™ HDR, you'll be able to record clear video of important vehicle details in any light.
AUTOMATIC RECORDING
Once plugged into your vehicle's power source, the camera continually records, so you don't have to worry about turning it on and off or missing an incident.
INCIDENT DETECTION WITH GPS
The camera automatically saves footage when it detects an incident. With built-in GPS, you'll have proof of exactly when and where events occurred.
MEMORY CARD REQUIRED
Garmin Dash Cam 66W requires at least an 8 GB microSD™ card, Class 10 or faster (sold separately). Learn more about memory card specifications.
FORWARD COLLISION WARNINGS
To encourage safer driving, get alerts if you're driving too closely to the vehicle ahead3.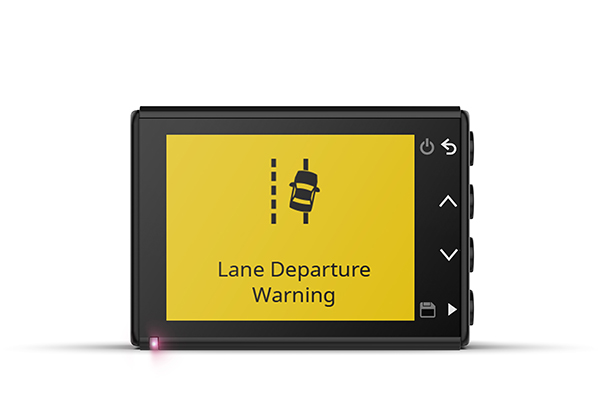 LANE DEPARTURE WARNINGS
Receive alerts if you drift off the road or into oncoming traffic3.
"GO" ALERTS
This feature notifies you when stopped traffic in front of you has started to move3.
RED LIGHT AND SPEED CAMERAS
This camera's got you covered with alerts for nearby red light and speed cameras4.
VOICE CONTROL
Keep your hands on the wheel, and use voice commands1 to tell the camera to save video, start and stop the audio recording and more.
TRAVELAPSE™ FEATURE
Share your drive with friends by using the Travel apse feature. It condenses hours of driving into minutes of highlights, creating a fun video you can easily share.
General

PHYSICAL DIMENSIONS
WxHxD: 2.2″ x 1.6″ x 0.8″ (5.6 x 4.0 x 2.1 cm)
DISPLAY SIZE
2.0″ diag (5.1 cm)
DISPLAY RESOLUTION
320 x 240 pixels
DISPLAY TYPE
QVGA color TFT LCD
WEIGHT
2.2 oz (61.3 g)
BATTERY TYPE
rechargeable lithium-ion
BATTERY LIFE
up to 30 minutes
MAGNETIC MOUNT
Maps & Memory

DATA CARDS
Requires at least 8 GB microSD™ card (supports up to 512 GB), Class-10 or faster (not included)
We can not guarantee that the information on this page is 100% correct.